In The Restaurants
Where to Get Weekend Brunch To-Go
May 19, 2020
Missing weekend brunch with friends? Let's all brunch together, apart. Lettuce Entertain You has several brunch to-go options from our restaurants from delicious pancakes and egg sandwiches to Bloody Mary and Mimosa cocktail kits to make at home.
Here are our restaurants dishing out weekend brunch and brunch cocktail kits.
Check out our family meals, meal and cocktail kits and booze to-go options.
Aba
WHEN: Every day; 12:00 PM – 8:00 PM
WHERE: 302 N. Green St.
WHAT: Aba is offering a Bagels & Bubbles brunch at home which includes everything Jerusalem Bagels, Labneh Spread, Smoked Salmon spread, Giuliana Prosecco, Orange Juice, and a side of tomatoes, red onions and capers. Order by 10:00 AM for same day curbside pick-up orders. The price is $40, plus tax for the Bagels & Bubbles brunch menu.
CONTACT: Order on Aba on Tock
WHEN: Every day; 8:00 AM – 12:00 PM
WHERE: 671 N. St. Clair Street, Chicago IL 
WHAT: Beatrix is offering breakfast for two for $35 plus tax, available every day of the week, as well as brunch from Friday – Sunday for $30, plus tax. For brunch, choose from either a Chilaquiles Bar at Home or an Enchilada feast, and don't forget to add on some house-made pastries! Orders must be placed by 8:00 PM the day prior. Pick-up for daily breakfast is from 8:00AM – 12:00 PM, and brunch pick-up is 9:00AM- 12:00 PM at Beatrix Streeterville.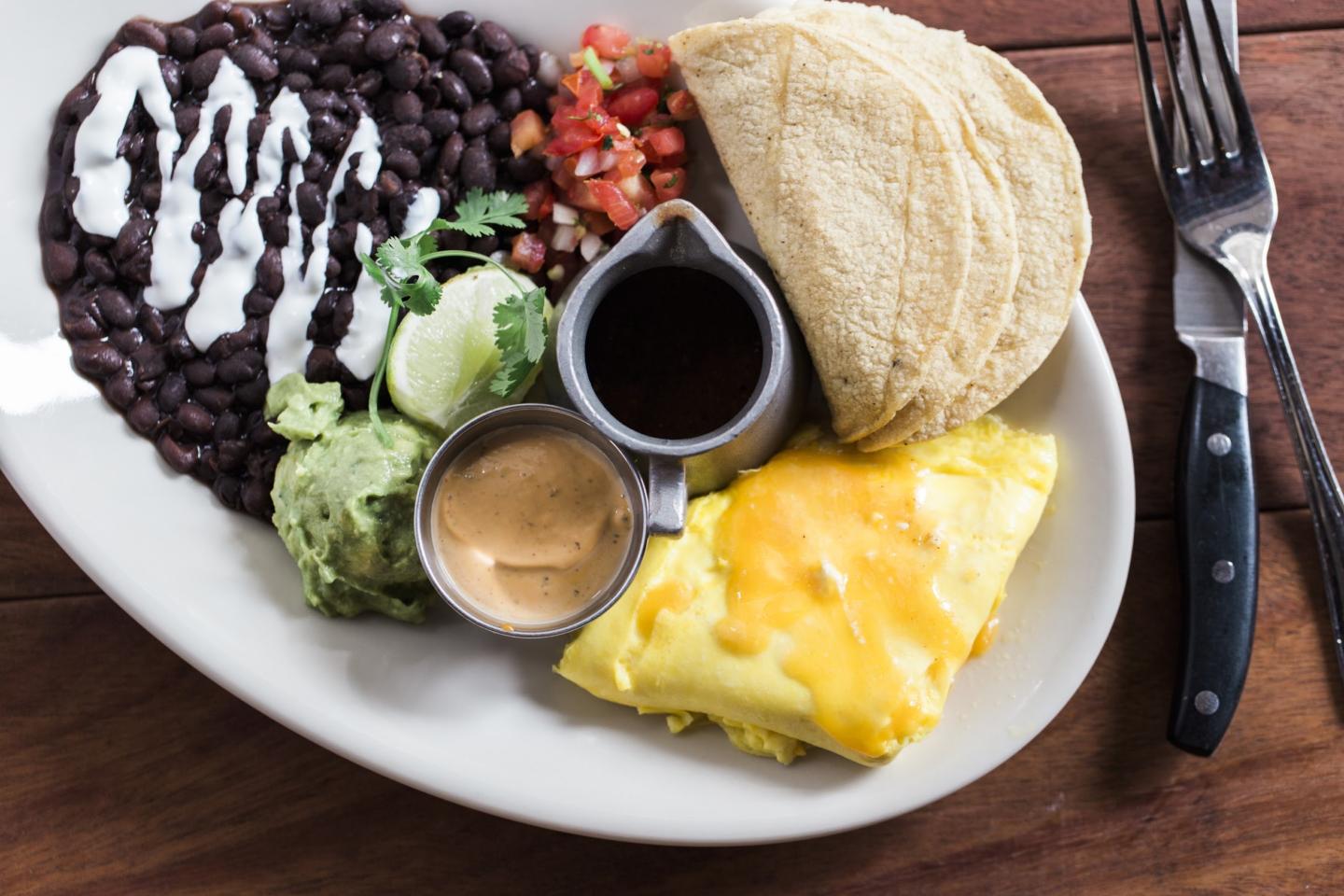 Hub 51
WHEN:
Saturday and Sunday: 10:30 AM – 3:00 PM
WHERE:
59 W. Hubbard St.
WHAT:
Every weekend Hub is serving up classic brunch items like
Thick-Cut Brioche French Toast, Breakfast Nachos, Breakfast Tacos
and
Breakfast Burritos.
Side items include
Maple Bacon, Hash Browns, Mexican Hash Browns,
and
Turkey Sausage
. Hub brunch is available for curbside carryout (located at Il Porcellino) or delivery.
CONTACT:  312-828-0051
or
order carryout from Hub 51 online via Tock.
Order Hub 51 for delivery via Caviar
Mon Ami Gabi – Reston 
WHEN: Saturday – Sunday, 12:00 PM – 8:30 PM
WHERE: 11950 Democracy Dr, Reston, VA 20190
WHAT: Enjoy Gabi brunch favorites in the comfort of your own home. Whether you have a taste for the French classic 
Croque Monsieur with Frites
 or prefer something sweet like the 
Brioche French Toast,
 Mon Ami Gabi & Community Canteen have you covered.
CONTACT: 703-707-0233 to order carry out or 
order delivery via Doordash
WHEN: Saturday – Sunday, 11:30 AM – 8:30 PM
WHERE: 2056 N. Lincoln Park W., Chicago, IL 60614
WHAT: Enjoy an abbreviated R.J. Grunts brunch menu on Saturdays and Sundays with favorites like the Breakfast Burrito and Thick-Cut Challah French Toast as well as classic brunch sides plus Creamy Cheddar Broccoli and Chicken Noodle soups. 
Summer House Santa Monica & Stella Barra Pizzeria & Wine Bar – Chicago
View Weekend Breakfast menu
WHEN: Saturday – Sunday, 11:00 AM – 3:00 PM
WHERE: 1954 N. Halsted St., Chicago, IL 60614
WHAT: Summer House Santa Monica & Stella Barra Pizzeria offer a Weekend Breakfast Menu for carryout, delivery & curbside pickup. Take advantage of the Family Breakfast for Four with two meal options, plus bottles of Giuliana Prosecco & OJ ($27 each) to complete your Summer House order.
CONTACT: 773-634-4100 or order on Doordash
Summer House Santa Monica – North Bethesda
WHEN: Every day, 8:30 AM – 10:00 AM
WHERE: 11825 Grand Park Ave, North Bethesda MD 20852
WHAT: Grab a Rise & Shine Breakfast Special of an Egg Sandwich & Coffee at Summer House's Market! The special includes choice of bacon, sausage or avocado for $10.95, or add an Espresso Drink for just $1.50 more, plus tax (gratuity not included). Call to place an order in advance or stop by the restaurant. In addition, Summer House offers regular breakfast staples like egg sandwiches, pancakes, yogurt parfaits and more available all day. Click here to view the complete menu and hours of operation. Regular Menu is available for pick up or delivery. Click here to order.
CONTACT: 301-881-2381 
Make your own brunch cocktails!
Beatrix – Streeterville
WHEN: Every day, 8:00 AM – 8:00 PM
WHERE: 671 N St Clair St, Chicago, IL 60611
WHAT: Beatrix is offering Bloody Mary & Mimosa Kits! Each Bloody Mary Kit is $55, plus tax and contains: 1 bottle of Tito's Vodka, 2 bottles of Uncle Dougie's Bloody Mary Mix, 1 bottle of Tabasco and a recipe card. (Bloody Mary Kit yields 16 cocktails). The Mimosa Kit is $25, plus tax and includes 1 bottle of Villa Sandi Prosecco and 20 oz. of Orange Juice. Call to order and arrange a pick-up time or order online.
CONTACT: 312-642-0001 or order on Doordash
Bub City – River North
WHEN: Every day, 11:00 AM – 8:00 PM
WHERE: 435 N. Clark St., Chicago, IL 60654
WHAT: Bub City – River North is selling bottles of whiskey from their personal collection plus Moscow Mule and Bloody Mary kits. Call to set up a time to come purchase and discuss inventory and pricing on the bottles of whiskey. Purchase the cocktail kits online.
CONTACT: 312-610-4200 or order on Chownow
Quality Crab & Oyster Bah
WHEN: Sunday – Friday 3:00 PM – 8:00 PM; Saturday 12:00 PM – 8:00 PM
WHERE: 1962 N Halsted St, Chicago, IL 60614
WHAT: Quality Crab & Oyster Bah is offering Bah Mimosa Kits for $25, plus tax. You can also order a Sparkling Strawberry Mimosa Kit with Rose and sparkling rose for $32, plus tax. Call to order and arrange a pick-up time or order on Grubhub.
CONTACT: 773-248-3000 or order on Grubhub
Shaw's Crab House – Chicago
View Shaw's wine to-go menu | View Shaw's high-end wine cellar sale menu
WHEN: Monday – Friday: 11:30 AM – 8:00 PM, Saturday and Sunday 12:00 PM – 8:00 PM
WHERE: 21 E. Hubbard St. Chicago, IL 60611
WHAT: Shaw's is offering Moscow Mule Kits, Shaw's Martini Kits, Bloody Mary Kits, Old Fashioned Kits, Manhattan Kits, or the Shaw's Patron Margarita Kit. Call to order and arrange pick-up time or order online for cocktail kits.
CONTACT: 312-527-2722 or order on Grubhub
---