In The Restaurants
Try The Karina Method-Approved Dishes at Summer House Santa Monica
Feb 12, 2010
Ready to add some feel-good food to your lunch or dinner routine? Summer House Santa Monica has teamed up with Chicago and Los Angeles-based celebrity nutritionist and wellness expert Karina Heinrich of The Karina Method to bring you new TKM-approved specials each quarter at the Lincoln Park restaurant. The first batch is now live and will run through February 12. Here's a look at a few of our favorites!
Make a reservation at Summer House Santa Monica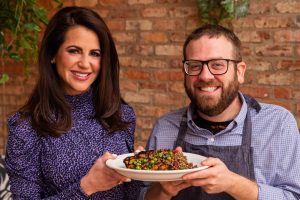 Karina collaborated with Summer House Executive Chef Ben Goodnick on these limited-time only specials that incorporate some of The Karina Method's most popular ingredients and recipes and also lean into her Mediterranean heritage. For example, the Charred Beauregard Sweet Potato features falafel spiced chickpeas, pomegranate seeds, hazelnut dukkah and The Karina Method red quinoa tabbouleh. 
The Karina Method's mantra is "High Low Lean No." TKM recommends a diet with high amounts of water, fiber, and clean carbs, low in healthy fats, plenty of lean protein, and no added salts or sugars. The focus is on wholesome foods and natural flavors for optimal health and happiness. The Wood-Grilled Gerber's Farm Chicken Breast with charred broccolini and ginger scallion relish perfectly embodies this food mindset.
Karina says, "Summer House is the restaurant I recommend to clients, friends and family because they choose clean ingredients and fresh, local and sustainable farmed vegetables." Case in point, the Revol Greens 'Clean & Green' Salad with locally grown baby green leaf and spinach, The Karina Method Ultimate Organic Dressing, shaved gala apples, delicata squash and multi-seeded 'croutons.'
Bonus alert: Now through February 12, each guest who orders any item from the special menu receives a free bag of The Karina Method's Homemade Nut & Seed Granola to take home. Filled with fiber, vitamins and healthy oils, it's a perfect addition to parfaits, salads and more.
For the full recipe for TKM's Homemade Nut & Seed Granola, click here.
Click here for all of TKM's recipes.
You can look forward to new TKM-approved specials every quarter in 2020, so follow Summer House Santa Monica on Instagram at @summerhousesm for updates on when new dishes will hit the menu. For more information on Karina Heinrich and The Karina Method, head over to Karina's Instagram @thekarinamethod or www.thekarinamethod.com.
Stay on track with your New Year's resolutions with these healthy swaps at our restaurants.
---