In The Restaurants
Rich Says You've Gotta Try: Stella Barra Pizzeria
Jun 13, 2018
Summer time is typically synonymous with (trying to) eat lighter but what if we told you that what Lettuce Entertain You founder Rich Melman is recommending this go around involves eating all of the pizza AND still eating lighter? Yeah, you read that right!
Happy summer folks, we're back with our next rendition of "You've Gotta Try," our periodical posts from our founder Rich Melman about what he's loving and eating in our restaurants right now.
Today we're highlighting Stella Barra Pizzeria, an artisanal pizzeria from Chef / Partner Jeff Mahin that dishes out deliciously seasonal pizza from coast-to-coast with locations in Chicago, IL, North Bethesda, MD, West Hollywood, CA and the OG in Santa Monica, CA.
Let's first make something clear: Rich loves all pizza but currently his favorite is Stella Barra's Thin Sin.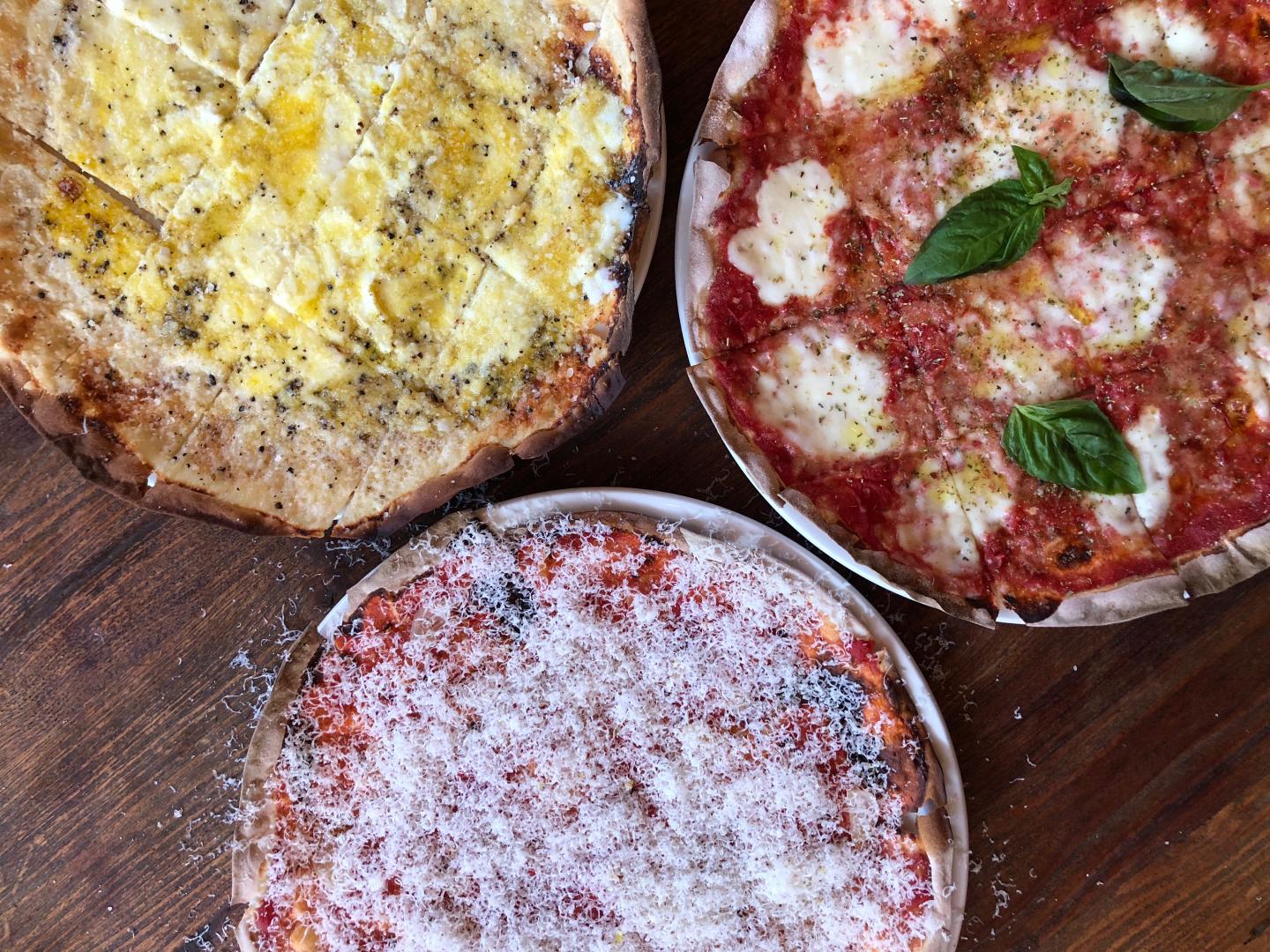 "I love pizza but I really love this pizza, I could eat the entire pie myself and not feel full. I eat so much in the restaurants so I try to watch what I eat. Stella's Thin Sin is just very light."
What is Thin Sin?
Thin sin dough is a cracker thin dough that the chefs roll out as opposed to stretch to make it extra crispy.
Stella Barra has always been known for their classical hand stretched crust and now they have a new, dedicated Thin Sin section on the menu as these particular toppings shine on this crispy, crust consistency from Cacio E Pepe pizza with pecorino, parmesan cream, black pepper, egg and garlic to the Pecorino & Rosemary pizza with organic tomato sauce, grana padano, olive oil and sea salt.
"They have this one pizza called Vacche Rosse that's made with fresh tomatoes, garlic, chili flake and olive oil and they grate 60-month old parmesan over the top, tableside and I just love it, it's really great."
What makes this cheese that's on the Vacche Rosse so special?
It comes from the milk of red cows, which is literally what Vacche Rosse translates to. The cheese is aged for 60-months which add a complexity of flavor
And the best part about the thin sin? Any of Stella's signature pizzas (or seasonal special pies) can be ordered on thin sin in place of the regular crusts.
"If you haven't had the Shaved Mushroom pizza before you've gotta try it on thin sin. It's topped with caramelized onion, rosemary, truffle oil and gruyere cheese. The Bloomsdale Spinach and Purple Kale pizza is also a favorite of mine to make thin sin."
Stella is no doubt known for their pizza, but let us also tell you what Rich recommends you order on the side.
"The Burrata with grilled grapes started at Stella Barra in LA and has really caught on here in Chicago. It's been on the menu since the beginning."
"The seasonal veggies there are really good. The chefs are always going to the farmers markets and they are always changing up the menu based on what they find there."
So, moral of this story is that you don't have to sacrifice pizza this summer to be beach ready; even Rich Melman says so.
We hope you'll come check out our new fleet of thin sin pizzas at Stella Barra for yourself.
Make a reservation at Stella Barra Chicago
Make a reservation at Stella Barra North Bethesda.
Make a reservation at Stella Barra West Hollywood.
---