How To
How To Throw the Best Birthday Ever (At Home!)
Feb 6, 2021
This one goes out to anyone celebrating a birthday in quarantine this year. Just because you can't go out to see family and friends in-person, doesn't mean you still can't have an amazing birthday bash! Here are ways Lettuce Entertain You can help you turn your living room into a party room for the best birthday ever!
For a full list of all the family meals, cocktail kits and booze to-go, click here.
Check out which Lettuce restaurants are offering carryout and delivery near you.
For the Kiddos
What if we told you we had a way to keep your kids occupied all while making a tasty meals and birthday treats of their own? Start out with Make-Your-Own Pizza Kits from Stella Barra Pizzeria & Wine Bar.
You KNEAD this pizza kit, and here's why: This all-in-one box is $16.95, plus tax and has everything you need to create a Margherita Pizza. To place your order in North Bethesda, call 301-770-8609 or order the Stella Barra – North Bethesda Pizza Kit online. In Santa Monica, call 310-396-9250 or order the Stella Barra – Santa Monica Pizza Kit online.
Watch Chef Ben Goodnick make pizza from the kit here.
Beatrix is selling cookie dough six-packs, with flavors including chocolate chunk, butterscotch oatmeal, magic, Nutella and raspberry macaroon (GF). Get your hands on the cookie kits by ordering online. Order from Beatrix – Streeterville | Order from Beatrix – Fulton Market | Order from Beatrix – River North | Order from Bearix – Oak Brook
Osteria Via Stato also offers pints of your favorite gelato flavors to go including vanilla bean and burnt caramel. Call 312-642-8450 to order, or add it onto your online order from Osteria here. 
For a Romantic Birthday For Two
We've got special meals made for two to celebrate a birthday with the one you love (or the one you're quarentined with).
If seafood is more your thing, Shaw's Crab House – Chicago> is offering a Surf & Turf Dinner for 2 for $120, plus tax. Order from Shaw's – Chicago.
For the Birthday Bruncher
You can still plan your weekends around brunch.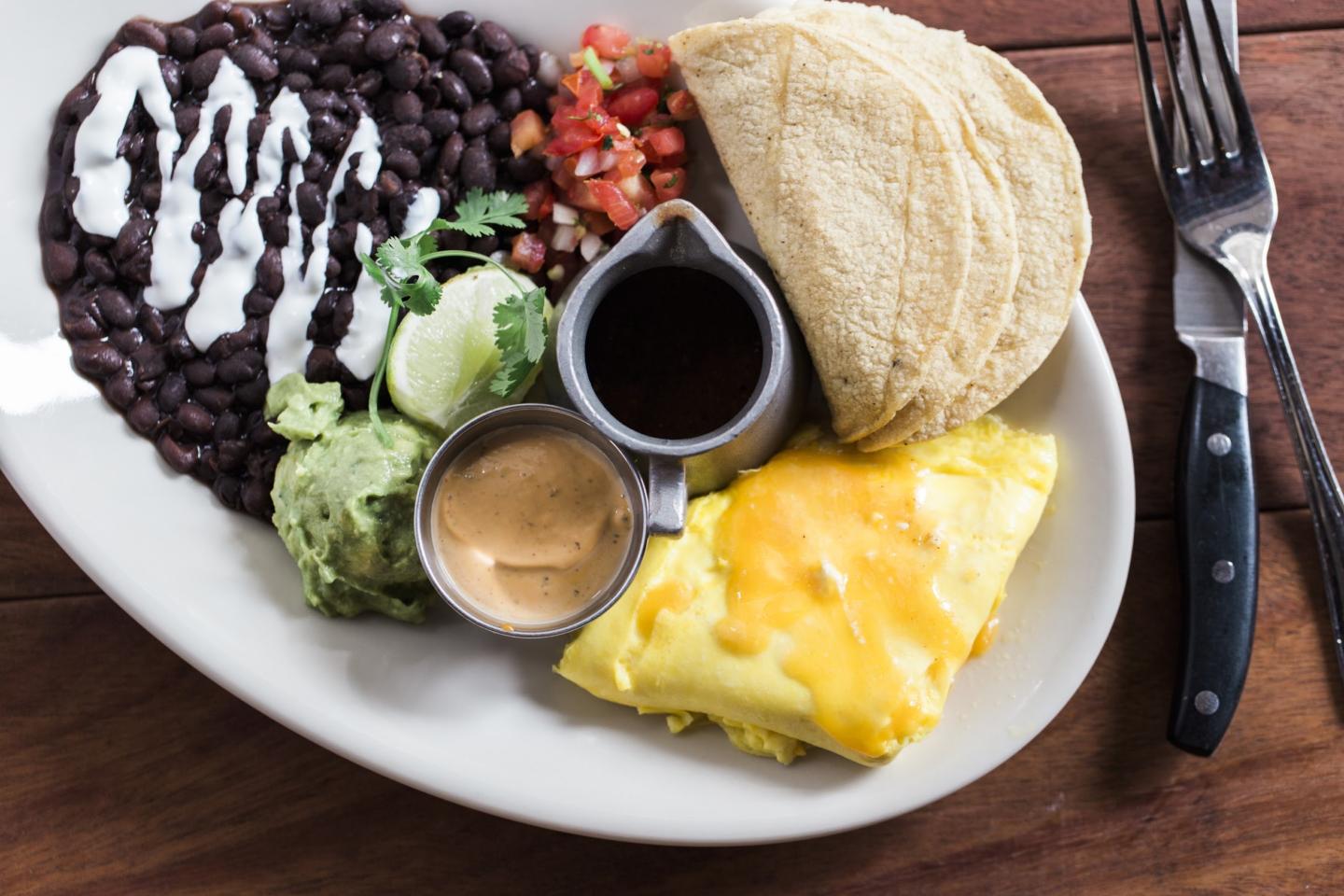 Every Wednesday – Sunday, Hub 51 is serving up classic brunch items like Thick-Cut Brioche French Toast, Breakfast Nachos, Breakfast Tacos and Breakfast Burritos. Side items include Maple Bacon, Hash Browns, Mexican Hash Browns, and Turkey Sausage. Hub brunch is available for curbside carryout or delivery. Hub 51 is offering Mimosa Kits and Brunch Packages for 2 for pick-up! Call 312-828-0051 or order carryout from Hub 51 online via Tock. Order Hub 51 for delivery via Caviar
For all brunch options to-go, click here. 
For the Milestone Birthdays
Many people make it a tradition to celebrate a birthday at Joe's Seafood, Prime Steak & Stone Crab.  Order your Joe's favorites online for carryout.
Quality Crab & Oyster Bahis celebrating its Fifth Birthday and bringing a full blown Shellabration Platter The Shellabration Platter includes 1 lb. of chilled Alaskan King Crab Legs, 18 freshly shucked Oysters on the Half Shell, 6 Jumbo Cocktail Shrimp & a Petite Lobster Tail. And because we know no celebration is complete without bubbles and a sweet finish, we have included a bottle of sparkling and a slice of our Signature Triple Layer Coconut Cake (with a candle of course!). This is available for $169.95, plus tax (gratuity not included) and is available throughout the holiday season. Order the Shellebration Platter from Quality Crab & Oyster Bah. 
Cafe Ba-Ba-Reeba! is giving you the chance to enjoy a family-style Spanish picnic with the Pintxos Picnic Package built for two for $45 per order, plus tax (gratuity not included). This package is prepared ready-to-eat, including disposable plates and roll-ups. Upgrade your picnic spread with a pitcher of our Sangria for an additional $28 each and Spanish Cocktails To-Go for $24 each, plus tax (gratuity not included). The Pintxos Picnic Package for Two is available and orders must be placed in advance on Tock by 9:00 AM for the same day pickup or delivery option. Order Cafe Ba-Ba-Reeba! Pintxos Picnic Package
Crab Cellar
is offering family meals including
Alaskan King Crab Legs
,
Prime Burgers
with roquefort cheese and crispy onions,
Roasted Broccoli
,
Sweet Corn Hush Puppies
with jalapeno crema,
Fries
,
Coleslaw
and
Coconut Cake
. The family meals come packaged for two people (2 lbs of King Crab and 2 Prime Burgers for $139 plus tax, gratuity not included) and for four people (4 lbs. of King Crab and 4 Prime Burgers for $259 plus tax, gratuity not included).  Order at least 30 minutes in advance for pickup.
Order carryout from Crab Cellar online
|
Order delivery from Crab Cellar online
And for your birthday cake needs? You can now purchase a whole Martha Melman's Special Occasion Carrot Cake from Hub 51. While you can still get it by the slice, whole cakes must be ordered for pick-up at least 24 hours in advance. Order the carrot cake from Hub 51 online here. 
RPM Steak offers special occasion cakes prepared per order. Choose from RPM chocolate cake with ganache and chocolate glaze or RPM Vanilla Cake, a vanilla cake with vanilla buttercream! To purchase your cake from RPM Steak, click here.
Prefer a whole pie or cake rather than a slice? Beatrix is offering a whole Oh My! Caramel Pie or Tall, Dark and Handsome Chocolate Cake. Order from Beatrix – Streeterville | Order from Beatrix – Fulton Market | Order from Beatrix – River North | Order from Bearix – Oak Brook

For When You Want to go to the Bar
One silver lining about having to stay home? You can now shop our restaurant's wine cellars and get cocktail kits delivered right to your home. So if you were hoping to meet your friends at your favorite neighborhood bar for your birthday, let us bring the bar to you.
Bring the Sushi-San rare Japanese whisky collection home with the Whisky Bento Boxes which includes some of Japan's most prestigious distilleries like Nikka, Mars, Suntory and more. The boxes include four 2 oz. tastings, silicone ice mold, jigger and tasting notes. Whisky Bento Boxes start at $50, plus tax and are available for pick-up at Sushi-San (63 W. Grand Ave.) and can be ordered by calling Sushi-San at 312-828-0575 or order your Whisky Bento Box via Tock. 
Gin and Juice is the first virtual bar from Three Dots and a Dash and the more than two dozen cocktail kits to choose from, from single serve to group drinks, the Gin and Juice cocktail kits help bring the party to you for your next quarentine birthday celebration. Order Gin and Juice online.
For Those Who Know Calories Don't Count on Your Birthday
It's a fact, calories do not count on your birthday. Here are our picks for indulgent carryout or delivery.
Satisfy your Chinese food or Thai food craving with Big Bowl. Order Big Bowl Chicago here. | Order Big Bowl Lincolnshire.| Order from Big Bowl Schaumburg.
If you're in the mood for some American comfort food, order up L. Woods' BBQ Brisket or their famous Baby Back Ribs with a side of their famous 'ice box cold' key lime pies. You can see the L. Woods menu and order here!
Tallboy Taco's build-your-own taco bars feature hand-pressed tortillas, choice of two proteins (carne asada, chicken chimichurri, grilled baja shrimp and pork al pastor), assorted toppings, fresh guacamole, corn fundito and housemade chips. The kit also includes signature sweets Cinnamon Toast Crunch Treats. Order the taco kit for two people or four people. Call 312-584-3192 or order Tallboy Taco online.
No matter how you choose to celebrate, we are hoping to make your at-home birthday a little more delicious and a lot more fun! Wishing you a happy and healthy year ahead!
Looking for a gift idea for your food-loving friend? Buy a Lettuce Entertain You Gift Card.
---