How To
How To Throw the Best Birthday Ever (At Home!)
Aug 16, 2020
This one goes out to anyone celebrating a birthday in quarantine this year. Just because you can't go out to see family and friends in-person, doesn't mean you still can't have an amazing birthday bash! Here are ways Lettuce Entertain You can help you turn your living room into a party room for the best birthday ever!
For a full list of all the family meals, cocktail kits and booze to-go, click here.
Check out which Lettuce restaurants are offering carryout and delivery near you.
For the Kiddos
What if we told you we had a way to keep your kids occupied all while making a tasty meals and birthday treats of their own? Start out with Make-Your-Own Pizza Kits from Stella Barra Pizzeria & Wine Bar.
You KNEAD this pizza kit, and here's why: This all-in-one box is $16.95 (plux tax) and has everything you need to create a Margherita Pizza. To place your order in Chicago call 773-634-4101 | North Bethesda: 301-770-8609| Santa Monica: 310-396-9250. Order your pizza kit online or carryout and delivery from Stella Barra Chicago here.  Place your order at Stella Barra in North Bethesda here. 
Watch Chef Ben Goodnick make pizza from the kit here.
Don't worry, there WILL be dessert. Stella Barra Pizzeria, Summer House Santa Monica and Beatrix are offering cookie dough kits. Bring the legend that is these fresh-baked cookies into your kitchen – perfect for blowing out the candles. At Stella Barra and Summer House, pre-portioned chocolate chip cookie dough with baking instructions included. Check out Stella Barra's website to order yours today.
Beatrix is selling cookie dough six-packs, with flavors including chocolate chunk, butterscotch oatmeal, magic, nutella and raspberry macaroon (GF). Get your hands on the cookie kits by order via Tock. Order Beatrix -Streeterville online. Order from Beatrix -Fulton Market online. Order from Beatrix – River North. Order from Bearix – Oak Brook.
Osteria Via Stato also offers pints of your favorite gelato flavors to go including vanilla bean and burnt caramel. Call 312-642-8450 to order, or add it onto your online order from Osteria here. 
For a Romantic Birthday For Two
We've got special meals made for two to celebrate a birthday with the one you love (or the one you're quarentined with).
"If seafood is more your thing, Shaw's Crab House is offering a Surf & Turf Dinner for 2 for $155, plus tax. Order from Shaw's Schaumburg. Order from Shaw's Chicago. 
For the Birthday Bruncher
You can still plan your weekends around brunch.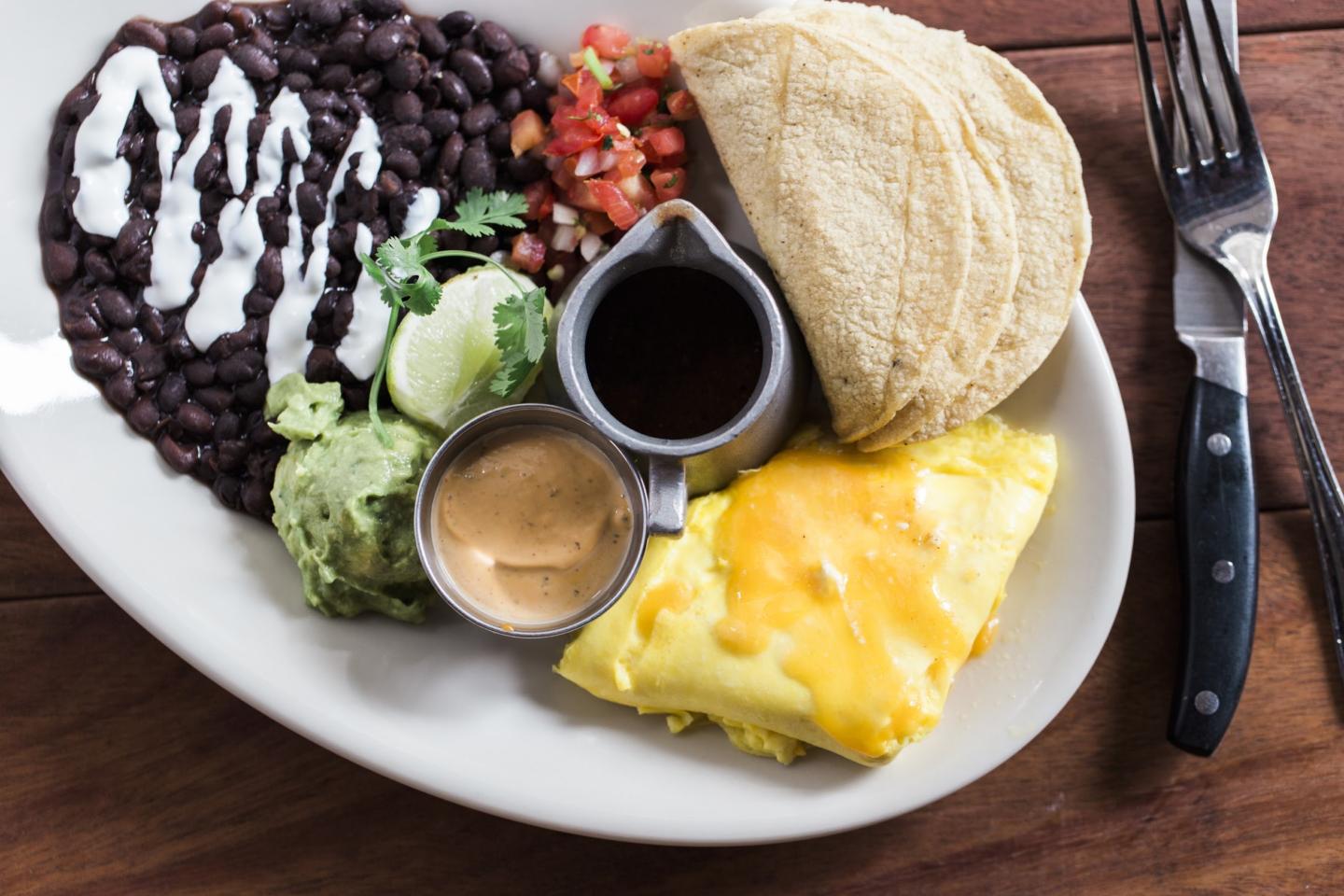 Every Wednesday – Sunday, Hub 51 is serving up classic brunch items like Thick-Cut Brioche French Toast, Breakfast Nachos, Breakfast Tacos and Breakfast Burritos. Side items include Maple Bacon, Hash Browns, Mexican Hash Browns, and Turkey Sausage. Hub brunch is available for curbside carryout or delivery. Hub 51 is offering Mimosa Kits and Brunch Packages for 2 for pick-up! Call 312-828-0051 or order carryout from Hub 51 online via Tock. Order Hub 51 for delivery via Caviar
For all brunch options to-go, click here. 
For the Milestone Birthdays
Many people make it a tradition to celebrate a birthday at Joe's Seafood, Prime Steak & Stone Crab. Let us bring your Joe's favorites to you, order carryout and delivery today. To place an order and arrange a pick-up time, give them a call (Chicago: 312-379-5637 ) or order Joe's online. 
Eat like a king (or queen) on your birthday with Alaskan King Crab Legs and Prime Burgers. Indulge with Crab Cellar's meal packages built for two or four with sides included. Order your Crab Cellar meal package now. 
Throw a Paella Potluck Party for your next at-home celebration! The Package is $58, plus tax for two people, perfect for small gatherings. Each package comes with pintxos, tapas, mains, and dessert to share, with classic red or white sangria pitcher add-ons for $27, plus tax each (4-5 servings), and cocktails to-go for $24, plus tax each (2 servings). This package is prepared ready-to-eat, with disposable plates and roll-ups included. This package is avaiable for carryout only and orders must be placed by 9:00 AM the day of pick-up. View Cafe Ba-Ba-Reeba!'s menu.  Order Cafe Ba-Ba-Reeba! holiday packages to go  
And for your birthday cake needs? You can now purchase a whole Martha's Special Occasion Carrot Cake from Hub 51. While you can still get it by the slice, whole cakes must be ordered for pick-up at least 24 hours in advance. Order the carrot cake from Hub 51 online here. 
RPM Steak offers special occasion cakes prepared per order. Choose from RPM chocolate cake with ganache and chocolate glaze or RPM Vanilla Cake, a vanilla cake with vanilla buttercream! To purchase your cake from RPM Steak, click here.
Prefer pie in place of a cake? Beatrix is offering a whole Oh My! Caramel Pie for purchase. Order by calling 312-642-0001.

For When You Want to go to the Bar
One silver lining about having to stay home? You can now shop our restaurant's wine cellars and get cocktail kits delivered right to your home. So if you were hoping to meet your friends at your favorite neighborhood bar for your birthday, let us bring the bar to you.
Whether you want to have an at home wine tasting or fill your cellar- Bar Ramone's 6-Pack Wines will do the trick! Order Bar Ramone online.
Ramen-San in River North and Fulton Market are offering a $20 Sake Bomb Kit complete with beer, sake and a guarenteed good time. Order your Sake Bomb Kit online for Ramen-San – River North. Order your Sake Bomb Kit online for Ramen-San Fulton Market.
If you're looking for to mix up the perfect classic cocktail, try your hand at Aba's Manhattan Kit, Martini Kit, Passionfruit Habanero Magarita Kit or Blueberry Spritz Kit. All options come with the ingredients you need, plus a recipe card. Order by calling 773-645-1400 or order Aba's cocktail kits online. 
For Those Who Know Calories Don't Count on Your Birthday
It's a fact, calories do not count on your birthday. Here are our picks for indulgent carryout or delivery.
Satisfy your Chinese food or Thai food craving with Big Bowl. Order Big Bowl Chicago here. | Order Big Bowl Lincolnshire.| Order from Big Bowl Schaumburg.
If you're in the mood for some American comfort food, order up L. Woods' BBQ Brisket or their famous Baby Back Ribs with a side of their famous 'ice box cold' key lime pies. You can see the L. Woods menu and order here!
No matter how you choose to celebrate, we are hoping to make your at-home birthday a little more delicious and a lot more fun! Wishing you a happy and healthy year ahead!
As the weather begins to warm up, we also have a lot of ideas of how to bring the restaurant patio experience straigh to your backyard, click here for ideas. 
Looking for a gift idea for your food-loving friend? Buy a Lettuce Entertain You Gift Card.
---