Tiki Takeover
We've never met a Tiki cocktail we weren't willing to try. What's not to love about Tiki with its fruit, booze, paper umbrellas, colorful garnishes, fun glasses and taste of the tropics? Tiki has been part of our culture for decades and lucky us, right now we're in the midst of a tasty Tiki revival.
For some Tiki inspiration selected by Eat Drink Lucky editors, take a look at some of these spots:
You can't talk about Tiki in Chicago without mentioning Three Dots and a Dash. They're the standard for craft cocktails meets classic Tiki vibe — bamboo, thatched roofs, giant delicious cocktails served in tropical-themed glassware, the works. Group cocktails are totally trending right now, and their recent menu additions include this group cocktail overflowing with aged rums, called Blood of the Kapu Tiki. It's served in a ceramic pirate ship!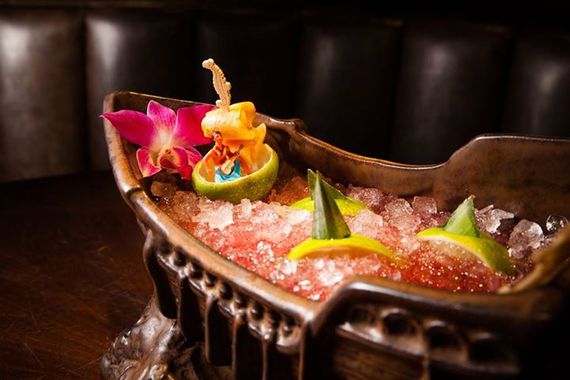 ---