The Best Bars in Chicago Right Now
Picking the best bars in Chicago is a lot like picking your favorite Seinfeld character. You can make a case for pretty much all of them (especially Newman). Yet our Beverage Director franchise actually does bravely select the best places to booze in the city at this precise moment in time. With a finely curated mix of new hotspots, local dives, and seasonal favorites, we just made deciding where to drink this weekend a helluva lot easier.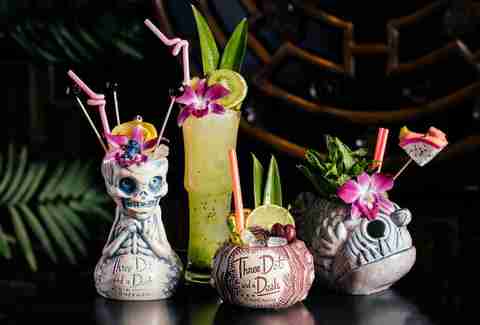 River North
Tiki mainstay now offering a bar within the bar
Whether you're looking for a secret bar, a beautiful bar, or a tiki bar, Three Dots a Dash is the place for any occasion — whether that is a search for the strongest drinks in the city, boozy slushies, or a bar to throw your birthday. Clearly, much ink has been spilled in this fair publication regarding this uber-popular River North tiki emporium in the past. But that's because it remains one of the flat-out best bars in the city, regardless of category, with 200+ rums, inventive tropical drinks like treasure chests packed with booze and dry ice fog, and Polynesian eats like pu-pu platters and king crab rangoon. While the bar is becoming more well known amongst the tourist crowd in recent years, you can now escape from the masses at the new bar-within-a-bar that is 3 Dots' recently opened Bamboo Room, where you'll find more "refined" cocktails and a more intimate feel.
---