Chicago's Best Restaurants for Group Dinners
Group dinners can be a pain, especially when you get stuck with the task of locking down the venue or splitting up the check or guilting friends into Venmoing you for drinks they "forgot" they ordered. With a little planning, your next group outing can be simplified with a number of restaurants offering set menus, large-format dishes perfect for sharing, and communal seating for larger parties. From BYOB Cuban and Costa Rican spots, to intimate Italian and picnic-style American, here are 10 options to consider the next time you're planning a group dinner.
LINCOLN PARK
Tapas are one of the easiest dishes to share, so a meal at Cafe Ba-Ba-Reeba! is ideal for feeding larger groups. The restaurant can accommodate up to 20 guests in the main dining room with a normal reservation and no set menu, or you can design your own menu with dinner packages ranging from $30-$45 per person. Large communal tables are ideal for bigger parties and make sharing pitchers of sangria and plates of bacon-wrapped dates easy.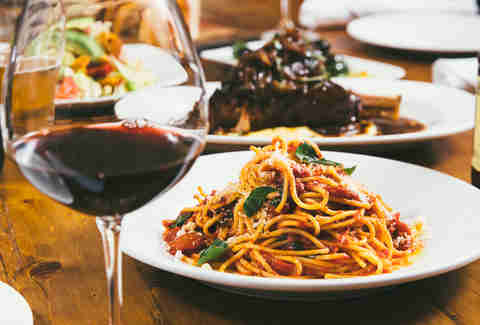 RIVER NORTH
Osteria Via Stato is a great venue for large groups due to the style of its food: traditional Italian. There are dishes for adventurous and timid eaters alike, and groups can order a la carte, or off the Italian dinner party menu. That menu includes a multi-course dinner including antipasti, pastas, a main course, and sides. Groups can sit in long communal tables amid the warm stone and wood space.
---