California's Flavors and Ingredients Spread Coast to Coast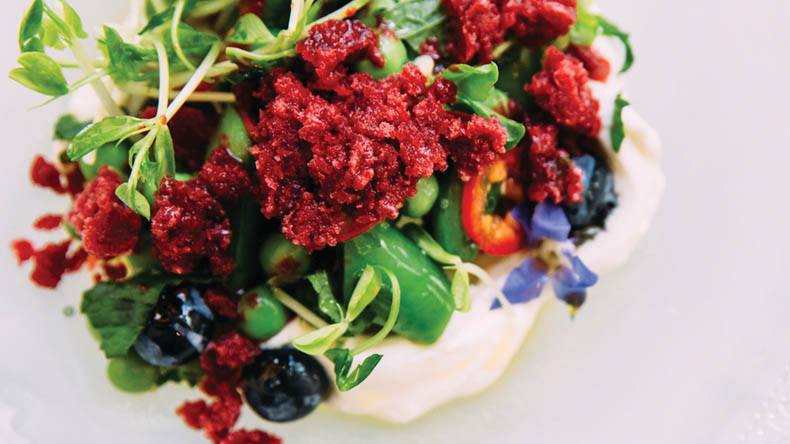 It should come as little surprise that the gold standard for locally sourced cuisine was established by the Golden State. But you don't have to work there to transport California's fresh bounty and flavor across the country.
Take C.J. Jacobson, the executive chef/owner of Ema in Chicago. Pulling from his Orange County roots, Jacobson incorporates California produce on a mezze-style menu that prizes both fruits and vegetables as savory centerpieces. Case in point: One of his signature dishes is a chilled, summery fusion of marinated English peas with housemade yogurt and Fresno chile, bathed in a granita of blackberry-sumac.
"Many people, especially in the Midwest, will tell you they're 'meat and potatoes' people, but much of the reason they are is because that's all you can really get in the winter here," Jacobson says. "Part of [bringing] California-style food to Chicago is education—we keep the mindset of fresh produce, and I use a lot of citrus and high acid flavors that bridge Mediterranean food with California produce."
For Justin Smillie, of New York City's Upland, the inspiration to bring California cuisine to the Big Apple largely came from memories of his mother's garden in San Bernardino County. There, he learned about the beauty of foraged cuisine, which he showcases at Upland in dishes like the salmon bowl served with farro, avocado, pumpkin seeds, pickled beets and Oro Blanco grapefruit wedges. "California cuisine is really about a reaction to the garden. It's not about 50 steps of service or a big bottle of wine," Smillie says. "Farmers' markets across the country owe California a debt of gratitude."
Yet while produce remains a valuable asset at Chicago's Summer House Santa Monica, the restaurant's California-inspired cuisine equally pulls from the state's own overlapping ethnic influences. On the menu, the wood-roasted Ora king salmon features common Asian fixtures like ginger soy, togarashi and baby bok choy. Then there are the spice-rubbed bigeye tuna or mahi mahi taco platters, which accentuate fresh, Mexican-influenced seafood often found along the West Coast.
"The idea is, 'What would you serve to your friends and family if you had a beautiful beach home in Santa Monica, and you could cook for everyone?'" says chef/partner Jeff Mahin. "To me, California cuisine is Alice Waters' perfect beach—it's the most simplistic sophistication anyone can find, and a melting pot of cuisines, so I get to steal from every influence."
---