Best pies in Chicago
The best pies in Chicago range from fruity creations to seriously rich chocolate versions. Here's where to get a slice.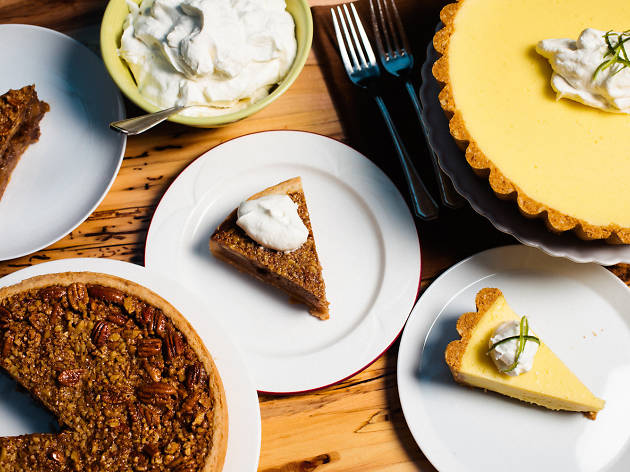 We're not sure exactly when Chicago became so pie-crazed, but we don't care—the past few years have been an embarrassment of riches when it comes to our favorite bakery treat. And you can find some of the best desserts in the city in all kinds of places, whether it's pecan pie at one of the best seafood restaurants (we're looking at you, Shaw's Crab House), rich chocolate pies by the slice from Bang Bang Pie Shop or decadent peanut butter pie from Bub City. Whether it's for Thanksgiving dinner or just an average day, here's where to go for the best pies in Chicago.
We love the seafood at Shaw's, but dessert's another high point—Shaw's pies are among the best around, and one bite of the thick, gooey pecan pie (with hot fudge sauce or Madeira wine), and you'll wish you saved extra room. Thankfully, you can get the pies in mini form in a dessert sample, with a key lime, pecan and raspberry pie, plus a mini crème brûlée—it's the perfect way to try it all and more.
Between the bourbon, a live music stage that would be easy to hop onto and the very disturbing mannequin of a cowboy urinating in the women's bathroom, the Melmans' hit is a place where one could make a lot of bad decisions. Here's one you won't regret: ordering a slice (or six) of chef Doug Psaltis's pie for dessert. The Peanut Butter Chocolate Delight—made with Valrhona chocolate ganache and house-made peanut butter—is positively insane, a marriage of comfort food and unimpeachable finesse. Psaltis's secret: his wife, Hsing Chen, the former pastry chef at the Peninsula, who he says taught him everything he knows about pie.
---